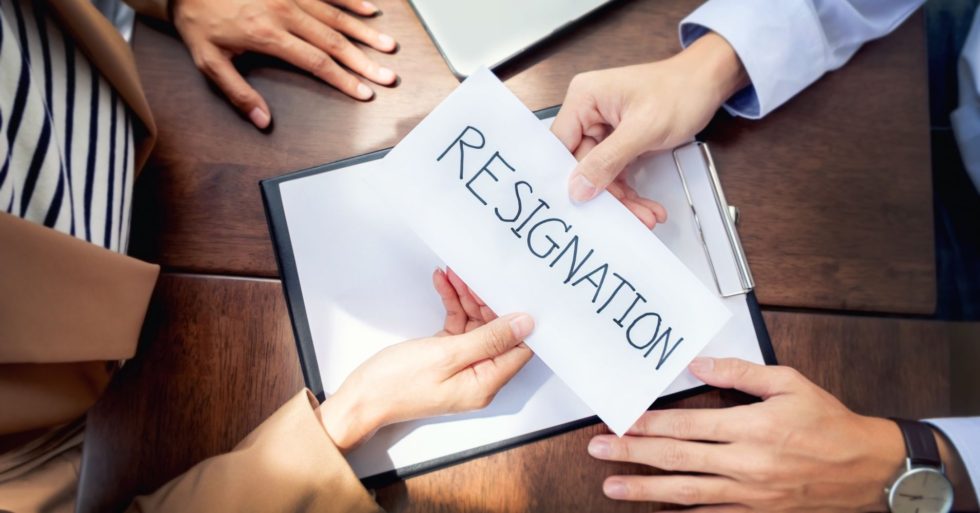 Resigning for the New Year? 4 Steps to Make Your Transition
It's normal for professionals to think about a new job or career change at the beginning of a new calendar year. Over the holidays, some professionals realize that they don't want to return to their jobs for a variety of reasons. Some professionals are ready to resign because they feel they need more compensation, or they are ready to enhance their professional skills.
I remember when I left my Federal Government job in 2014 for the private sector as I was unhappy professionally. During the 2013 holiday season, I worked on enhancing my career brand, connected with industry recruiters and researched companies for about 2 months. I was scared about resigning from my Federal Government job and I was praying that things in the new year would get better. But, after the month of January was over and everyone went back to work, I had to accept that nothing was changing for me at that job.
First, there were a few things I needed to do to build my confidence for my new year resignation, so I could start actively interviewing for Senior Consultant positions at Fortune 500 consulting companies. Below, I have outlined 4 steps to building confidence about finding a career role that you will enjoy.
Create a Career Roadmap
Most professionals are eager to find a new job, but have never created a career roadmap. Yet, we wonder why we find ourselves unhappy within our careers. A career roadmap is a guide to helps your map out what you want for your career. Professionals need to identify their career goals, salary expectations, commuting options and company culture fit.
Finding a new job is like finding a new woman or man you want to date; you need to have standards. When I was looking to work for consulting companies like Deloitte and Booz Allen Hamilton, I had to make sure they met all my expectations and aligned with my career roadmap. I knew I wanted to have a new job, but I needed to have an new outlook on what they were going to offer me to enhance my career goals and growth.
Level Up Your Career Brand
Once you have created your career roadmap, you need to develop a career branding strategy. Your career roadmap is your guide, but your career branding strategy will help you get the pay you deserve and land interviews with the companies you feel are a good culture fit. But first, you have to make your career experience, education and certifications stand out online.
If I wanted to resign from my Federal Government confidently, I needed to revamp my resume, update my LinkedIn and job board profiles, such as Indeed. I wanted to feel good about resigning from a job that was toxic and walk into the new year with a marketable career brand within the information technology industry. So, I aligned my career brand with the career roles that I desired; I updated keywords, completed online training and earned the Scrum Master IT certification.
Perform Company Research
Now that you have leveled up your career brand, it's time to apply for new roles at the companies you would love to work at. Before you start applying to random companies, I advise professionals to research every company using Glassdoor.com. Finding the right company culture fit is like finding the right hotel or resort when you're planning a vacation. It's a new year and you need find a new job at a company that will give you everything you don't have at your current organization.
A fearless resignation is going to require you to perform research on the company's culture, leadership, compensation and location, etc. When I interviewed and landed my new role at Deloitte, I read the company's website, Glassdoor reviews, and connected with professionals on LinkedIn who either had worked there or were working there when I accepted my job offer. All professionals should make sure they recieve the right pay, work location and benefits that will enhance their career.
Plan a Respectful Resignation
The process of planning resignations never gets really comfortable for the average professional. But, when you conduct a respectful resignation with a proper 2-3 week notice, backed up with open communication with leadership, the transition will be so much easier. It's so important that you develop a knowledge transfer plan for your team members. Professionals, try to leave your current job on a good note, even if your manager and team makes it difficult for you. Keep your eyes on the prize for your new role.
A new year resignation is hard for most teams because everyone is trying to get back to work after the holidays, but just make sure you stay professional and respectful when you resign. Also, try to perform all exit interviews on time and keep a copy of your personnel files for possible future needs. You can work with your human resources team to get a copy of your files and performance ratings.
Embrace the process of resigning from your current role; you deserve an EPIC career this new year and forever. -Kanika Tolver